The Naughty List! Come Link Up!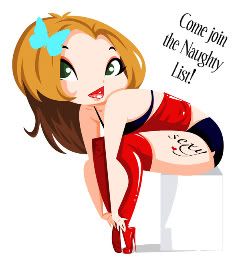 Welcome welcome all my naughty ones!
Are you ready for another Naughty List?
Well it's hump day!!!
Let all that nautiness out!
Help me in welcoming my gorgeous bunch of Co-Hostesses!

1. When I was 18 I worked at a sex shop!
I got to wear sexy clothes and sell toys, games, lingerie and all sorts of other goodies!!
2. When we buy a box of brownies I usually take some out, mix with water, and eat it straight out of the bowl. Seth HATES it when I do this.
He thinks it ruins the brownies.
But I do it anyways!!
3. Blind folding me turns me on!
There is just something about using your other senses, and being at another person's will that s kind of thrilling to me!!!
Well there is my Naughty List for the week!
Now where is yours?
follow , Naughty List