The NAUGHTY LIST is here!!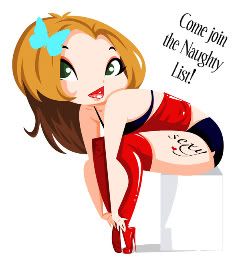 It is time for the Naughty List!!!
So break out your stories!
Installed a stripper pole in the bedroom? Or flip off the husband when his back was turned?
Well it's time to share with the rest of us Naughty Girls!
Go and check out your Hostess's!

AY! Sexy ladies eh?
Ok here is my Naughty List for this week:
1. I once vandalized a woman's house.
In my defense she would wake me up at least once a week at 4 am, drunk off her butt,
and asking me for change. She would say it was her Bday and she just needed ONE drink.
Juvenile...maybe.
2. I take the batteries out of Caden's Leapster for my...Ahem..Personal toys.
3. I spend WAY too long playing My Vineyard on FB.
When I should be doing the dishes, blogging, or getting out of my PJ's.
Ya....My Vineyard is super cute.
BTW....Hit me up if you need some neighbors! lol
OK! NOW! Your job....
LINK UP!
Then Check out the Hostess's.
THEN...Post your own Naughty List!
follow , Naughty List