Naughty List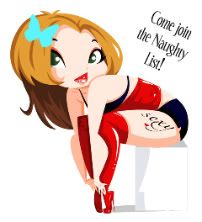 Wanna know how Naughty I am?
I forgot to write up my own Naughty List!!!
Today though I am going to focus on the BGC and what we're linking up over there!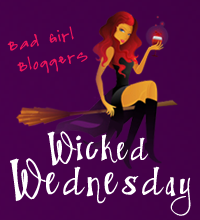 Today it's time to bid CB a farewell. Yes you heard right.
CB has run off to the circus to be a juggling palm reader. Hopefully she can stay sober long enough not to piss off the strong man. She has juggled so much though in the blogger land that I think she'll do just fine!
My favorite memory about CB is kinda how we met.
I had linked up to her BSF many months ago, but had forgotten to post her button. So the next Friday she chewed me out on her blog! I posted a comment
groveling, sobbing and kissing ass
apologizing and she thought I was cute and hilarious and told me "I heart your freakin face hooker!"
We've been blogging BFF's ever since.
I cried when I read the post that she was leaving.
Now what am I going to do with this stupid Flamingo she begged me for!!!
CB I'm drinkin to you! And your skank butt better come back soon!
Link up your Naughty List here and then go to the BGC and link up your CB post there. And you can do them in the same post if you like!
Would you like to help host the Naughty List? Do you have Naughty Questions that we can use for the Naughty List?
Email me!!
follow , Naughty List