Naughty List! Come link Up!
Happy Hump Day Everyone!!!
You know what time it is Boys and Girls! Go check out your Naughty List Hostess's and LINK UP!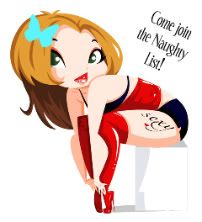 While I know you enjoy coming to read all of juicy, naughty secrets, this is a blog hop! So we want you to link up with us! Post our naughty button somewhere on your page and then come and link yourself up so we can check you out!
Some of you aren't even bothering to follow me! And I am THE Naughty Leader, obviously! Since I was able to get all of these super amazing woman to hook up with me.
Bottom line, check us out and link up!
Now time for your naughty Questions!
1. Have you ever walked in on a family member in a sexual moment?
2. Have you ever lied to a significant other?
3. Have you ever done the deed with your child (or someone else who was oblivious) in the same room?
4. Have you ever not tipped a service person (IE manicurist, waiter, caddy, valet, stripper) for a really stupid reason? (IE Too broke to tip, didn't like how they said hello)
5. Have you ever used your womanly body parts to get you something, or get you out of something?
(I am always looking for more naughty Questions!)
What are my confessions of the week?
1. I had Coldstone ice cream last night!!! I am not allowed any sugar on my diet! But it was cookie dough and it was worth it!!!
2. I have been losing the last few weeks on both of my Fantasy Football teams. But since my husband is the commisioner on both of them, I figured he could help me cheat a little this week! I even offered him sexual favors....
But no! He turned me down. And I lost again!
3. While walking home from picking Caden up from school today I let him listen to Pandora Radio on my phone with the head phones....Just so I didn't have to listen to him go on and on and on and ask me a bajillion questions!!! Hey...I have not slept in a few days and my patience is GONE!
Don't forget to check out Wicked Wednesday over at the Bad Girl Bloggers!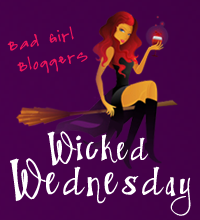 Instead of answering the Naughty Questions this week I am going to put out a call to all of you Bad Boys and Girls!
Think you're bad enough to cut it at the BGC?
Then shoot me an email!
I might pick you to interview on the BGC!



follow , Naughty List