Why I have the World's Greatest BFF. CONTEST!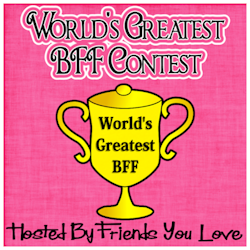 I stopped over to one of my fave blogs, Things I can't Say, and saw that Shell is helping host a contest by
Things You Love
.
We want to hear why you think you have The World's Greatest BFF.
To enter:
~Write a post about your BFF.
How do you know her? How has she been there for you? Tell us about the things you've been through together, through thick and thin. Why is YOUR BFF The World's Greatest BFF?
~Come back here and link your post up
Entries accepted 9/2 - 9/19
On 9/23, we will post our Top 5 favorite BFF posts.
~Beginning 9/24, the public can come back and vote for their favorite!
~Voting will close at 5 p.m. CST on 9/29(um...what time is that EST? 6pm? I 'm so tired, stop laughing at me)
~The winner will be announced at the Twitter Gala on 9/30 and will receive an extensive prize package
for herself AND her BFF!
So join the challenge! Write about your BFF, come back, link up, and win!!!
Nikki is my best friend
. (She's the cute pixie one on the left) That term gets thrown around a lot these days, but Nik really is. She has always been the constant in my life, my voice of reason, the person I look up to, the big sister I always wanted. I realized that December I will have known them for 8 years, it just doesn't seem like it's been enough time. I feel like she has always been there. When I talk about her to other people sometimes I'll slip up and say "I have known her my whole life." And yet I haven't! I even remember the day we met. She was our apartment manager, and our dishwasher broke. So she came over to wait for the repairman. He came and went, and 9 hours later we were still sitting on my living room floor talking about everything we could think of.
And after that we would have the best BBQ's. Her brother in law would come home after a few weeks away for work, and he would buy steak and shrimp and let them marinade for a few days. Then we would all gather at Nik's house and she would make Suddenly Salad and I would make mashed potato's, and we would eat and play drinking games till we couldn't stand anymore. We still joke about the time I made mashed potatoes that came out Purple. The most beautiful shade of purple! And we have no idea why!
Nik has always been the best person to talk to. She REALLY listens. And she makes jokes at all the right places. The craziest thing about Nik is how gorgeous she is. And she doesn't even know it!! And when she puts on makeup and does her hair she is such a knock out.
And when they got back from their baby makin trip and she was pregnant, we all joked about bad timing since she had just discovered mai tais.
Just a few months later, when she called and told me she had miss carried, I had moved 2000 miles away. All I could do was leave early from work and cry with her over the phone.
It seemed like such a bizarre twist when she got pregnant again and then I followed 3 months later. I wasn't scared at all. Why would I be? My best friend was helping me get through it. Even from 2000 miles away.
It's really hard now that she has had another baby. I really thought I would be there for it. I kept thinking about how cool it would be to hold her hand while she pushed. And then look at Bo and say what a beautiful baby we have. I felt like I was missing a piece of me knowing that my sister had this little mini her until I finally got to meet her last spring. (And boy is she ever gonna give momma a run for her money!!) I didn't get to spend a few weeks and do laundry and cook dinner and help out like a real family does when a baby is born. And that hurt so bad! Cause Nik is my family. Pretty much the only family I have.
The cool thing is how we have gone a month or so without talking. And yet we were always able to pick right back up like no time had past. I love that she loves her family even though they do the dumbest things sometimes. But she has the best Momma! She totally gets it when I whine about my psycho family. We argue, but not yelling...we just sort of disagree. It could be about diets, or history, or even blog backgrounds. But we have our moments where we are slightly irritated with each other. But we have never given up. We always push right through until it's worked out.
We have our own theme Movie. "OUT COLD". We always watch it together. We always repeat every line of the movie. We always yell our favorite parts while howling with laughter!
Speaking of laughter.....
This video is from my Trip out there this last spring. SO many giggles! I think we drove her husband nutso. We even have the same Perverted Sense of humor.
(Check this out and you'll know how crazy we are.)
It takes a very special kind of friendship to survive 7 years a part. I think I have seen her 4 times in the 7 years since I left home. Our sons, who are only 3 months a part, have only met twice. We talk every day, she is even the one who got me started blogging, and it's only brought us closer together. She lets me call her when I am broke down crying and she always drops everything to listen to me. I can't imagine my life without her. Literally. There isn't anyone who could be what she is to me. She has never once hurt me or betrayed my confidence.
Friends you pick. Family you are stuck with. Sometimes you are lucky enough to have your family as your close friends. But when that doesn't work out, God makes sure you are surrounded by the family you choose.
I picked my family. And I count myself as being very lucky.
best friend , Me , Nikki