Mondays or Mondays!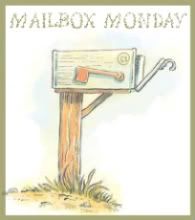 Please don't forget to link up with MailBox Monday!
Hosted by Simply Stacie, This Mama Loves Her Bargains and A little of this A little of that…


Here's how to join in the fun:

Add your blog link to the linky

Subscribe by email to the three hostesses. They will return the favor.

Visit the other blogs on the list and subscribe by email to the ones that interest you. Leave them a comment with your blog link so they know you are subscribing from Mailbox Monday. Don't forget to confirm your subscription!

Everyone is welcome to participate. Each week a new linky will be generated so make sure you stop by on Monday's to add your blog






You know you want to answer these!

What was your "oh no, I'm turning into my Mom/Dad" moment?
Every time I yell at Caden I know I sound JUST like my mother. Gives me the heebyjeebys and makes me reach for the tequila.

What current commercial do you find the most annoying/funny?
Those stupid Hillshire farms commericals!!!
It's just wrong to see girl scouts yelling "GO MEAT!!"


If you could only eat one color food for the rest of your life what would it be?

If all of my food was one color all the time? Probly white. Cause then I could add stuff to it to give it color.
HA! I'm Schmart.

What is your current Facebook/Myspace/Twitter status?

My current FB status is that I have gone 2 weeks without coffee. Yeah I know, I am a BAMF!
I don't have a myspace.
Twitter would be my current blog post.

Screw, Marry, Kill from this list below. (Women pick from the men, men pick from the women. )
Snookie (from Jersey Shore), Ellen DeGeneres, Betty White
Regis Philbin, Justin Bieber, Perez Hilton

I would marry Regis, give him a heart attack on our wedding night and take his money!
I would screw Perez Hilton. Just cause the only option left is a little boy.girl thingy. Ew.
I would Kill Justin Beiber, he gives the cool hermaphrodites like Lady GaGa a bad name.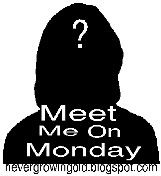 Questions:
1. Do you watch any Soap Operas?
Nope.
2. What appliance is used the most in your house?
Um...The computer. lol
3. Do you wear make-up every day
?
LOL! Oh no!
4. What is your worst pet-peeve?
I can't stand nail biters!
5. What is your favorite lunch meat?
HAM!


Ok JOIN UP OR DIE!
Well no....but you never know now do you?


follow