Monday Minute and More linkups than you can shake a stick at!
It's that time of the week again....Yes Monday!
Let's all share it with Ian and the Monday Minute!
Describe your life in one word



Miscelaneous




Is there something you wish you had learned how to do as a child?



I took piano lessons as a kid and I wish I had stuck with it.
That and Gymnastics.



Who has been the biggest influence on your life?



My husband. I had a lot of negative and self derogatory habits before I met him. He makes me want to act better, and challenge myself.





What is your greatest dream/hope/aspiration?



I want to be a great mother to my son.
When he is an adult I hope to be someone whom he is proud of and loves.
and finally...



Do you believe you have reached your potential? Why/why not?



I believe, that at 25 years old, it's impossible for me to even begin to know that yet.



Alright bloggers and blogesses, that's it for my Monday Minute!
Now click the cute little Yoda and go link up.
What's that you say?
In dire need of more linkups?!
Well don't fret! I have got you covered!
Just tiptoe a little lower.....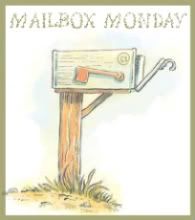 follow , seth , update