I need a few Naughty Girls!!!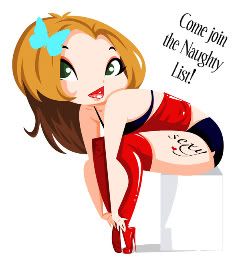 Life gets us all and usually our Blogs are pushed to the sidelines. It happens!
Because of this I have lost two of my hostesses!
While they can never be replaced, their naughtiness knows no bounds, I do need some help with Hosting the Naughty List! I will need you to post your list EVERY WEDNESDAY!
Please email me at
whimsical_miss@gmail.com
if you are interested!
(There was someone who emailed me, asking me to if you could help out and I have lost your email!!! Please get back to me! I would LOVE your help!)
Naughty List , update