Happy Hump Day Bloggers! Come see my surprise for you!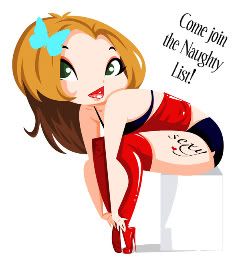 Welcome to our new Wednesday MeMe and Linkup! I have 3 fantabulous cohostess' that I would like to introduce to you:

These ladies are super amazing and I couldn't host this without them!
First off let me explain that a linkup is where you add your blog link to the list so that not only can new readers find you but you can find new blogs to read!
We are doing it with a fun new meme to keep it exciting!
This meme is THE NAUGHTY LIST! I want each of you to write 3 things that you have done that made you feel naughty! It can be from years ago or minutes ago! I would love to see your own post about it, and come on...You know you want this adorable button on your page!
(But if you're feelin kinda shy you can leave it as a comment.)
When you're done go and check out the hostess' posts, add them if you aren't currently reading them!
(Which obviously you should be since they helped put this together!)
And don't forget to link up!
MY NAUGHTY LIST:
I love to skinny dip!! I'm even slightly famous among my friends for bein the first to get naked and swim anytime!
2. I have a tramp stamp! And I love it!
3. Whenever Seth empties his pockets at night I steal all of his cash that isn't in his wallet!! And if he figures it out I won't tell him where it is.
Alright you brave souls! Spill a few naughty secrets for us to revel in! It's cool...Judgement free zone.
You know you want to be naughty with us!
And stay tuned next week for more Naughty Secrets Revealed!
follow , Naughty List