Naughty Teaser!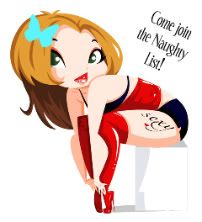 As most of you know tomorrow is Wednesday! Which means The Naughty List!
Want to write up your Naughty List tonight so that you can link up early? Then shoot me an email and I'll get those questions right on over to ya!
whimsical.miss@gmail.com
If you write up your own Naughty List post you will get 5 extra entries into my next giveaway!
You NEED to be checkin out
Gucci Mama
and lending her a hand as well! When a blogger asks for help, we help!
Also...Are you doing something special for Breast Cancer Awareness Month? Please let me know!!!
Naughty List