I am the Next Towanda!!!!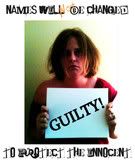 Ange over at
Names will not be changed to protect the innocent.
Has decided that she needs a new BFF to raise Hell with her. Well since I am this weeks Bad Girl over at the Bad Girl Blogger's club...I think I am definitely in the running for candidate! And any of my 3-d friends would say the same thing!
So I decided to fill out her Questionnaire!
Towanda Application
Name
MissC
Date of birth
8/12/1985
Religion (yes, this is f---ing relevant)
I am so not telling cause you WOULD judge me.
Thoughts on the fact that this application generator wrote f---ing instead of puting what I typed.
Well let's see if they edit mine too....F---ING F---ERSON!
Have you ever been arrested? If so, for what?
Once for public nudity. But that was just a jealous female cop. The rest of the time I got out of em.
Are you willing to do jail time in the name of fun?
I ask my friends that every Friday night!
Will you comply with all my rules regarding being my friend?
Probly not. I'm a rule breaker.
Are you willing to admit when you are wrong, and claim to be wrong even when you are right?
HELL NO!! But I will tell you with a smile that you're wrong.
What is the worst that can happen if you drink a bottle of wine with me?
I'll ask you for another one. I drink a bottle on my own just fine.
What about a bottle of straight vodka?
I will end up running naked through your dam neighborhood screaming IM TOWANDA!!! And it might be in a fake British Accent.
Do you have any plans of moving in the near future?
I HOPE TO GOD I DO!!!
Essay Question: Explain why you would like to be my Towanda.
Well it sounds like a dam good time.
Take This Survey Yourself
More Quizzes & Surveys
blog , Me , update