About ten years ago I decided that one day I would write a series on my life. I would write the first book starting from when my parents met up until I was 12 and we left California.
The second book would be from when I first got to Arkansas to when I left at 16 and moved back to California.
The third book would be from when I met my husband to now.
The series would be called Life As I See It. I thought that with that title I could write my life story, it would be from how I perceived everything happening, and maybe, with a preface like that, I wouldn't be hated so much by my family.
So when I started blogging I thought I would use the same title, and my blog would help me remember what all I have dealt with now, and when I was up to writing about my childhood, it would be a great help in remembering everything.
Today I decided to Google the name of my Blog. And what I found is making me change my mind on a few things.
I found an amazing Blog, she has been blogging since 2006, way longer than me, and her Blog is Life As I See It.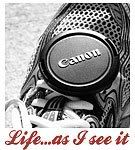 From what I gather she is a photographer, and she runs marathons. She's pretty awesome!

I also found a book on Amazon called My Life As I See It.
It's a mother's memoirs on her Autistic Son.


Have I decided to change the name of my book if it ever gets written?
Well the jury is still out on that.
But I have decided that My blog needs a new name and a new layout. Drastically.
CB told me that when she sees my NickName she thinks of a stripper. (I heart your whore face for that one!)
So ya...my blog needs a hot new name and a sexy new layout!
I am currently accepting ideas for both!


blog , Me , update