Names will not be changed to Protect the Innocent?
Have you met my new bloggin BFF Ange?
Well you can't meet her right now as she is having surgery!!!
But you can go and wish her guest blogger the best of luck in filling in for Ange while she is away.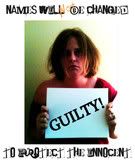 Or you can go and catch up on all her amazingness and then you'll feel like you know her on Monday when she gets back!
Ange I miss ya and I hope you recover quickly!!
blog