You're all mine my pretties!!! ~Mwah Ha Ha!~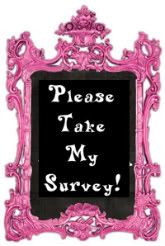 100 followers! OMG I can't believe it. Where did you all come from?!?
I am so glad to have you here!
Please do me a favor. Click on the above picture and take less then a minute to complete My Blog Survey. I would love to have as much info as possible so that I may not only Keep all of you as my followers, but so that number continues to grow as well!
Thanks so much to those of you who have already taken this survey! Remember...Let me know and I will answer you survey as well.



survey